First Capital Federal Credit Union is proud to work with many York County schools to offer budgeting, check writing, the importance of credit, and identity theft seminars. These seminars give students the knowledge they need to make sound financial decisions in their future.
If you would like to invite First Capital into your classroom, please contact Lisa Barshinger at [email protected] or (717) 767-5551 ext. 1125. These seminars are offered at no cost to schools. First Capital is also proud to participate with Junior Achievement to offer additional support to the local schools.
View our brochure to learn more about our educational programs for students.
Bulletin Board
York, PA – The Eagles Nest, a Branch of First Capital Federal Credit Union opened its doors today at Dover Area High School. First Capital partnered with Dover in 2019 with the intention of operating a credit union branch at the new High School. After many long months of planning, preparing and delays due to the pandemic, First Capital is proud to announce the Eagles Nest has officially opened.
"When Dover Area School District approached First Capital about this idea, we jumped at the opportunity," said Sue DeStephano, President/CEO. "Financial education is one of our core objectives and opening a branch inside Dover Area High School is just another way to enhance what we are already doing and potentially change the lives of some Dover students."
All those affiliated with the Dover Area School District are eligible to join the Credit Union. This includes faculty, staff, students, and their families. With the branch opening, First Capital also unveiled a brand-new program exclusive to Dover Area School District students called Dover Dollar$. With this program, for every deposit or check cashed of $20 or more, the student will receive a stamp on his/her very own stamp card. After 20 stamps, he/she can turn that card in for a $20 deposit into his/her account, courtesy of First Capital!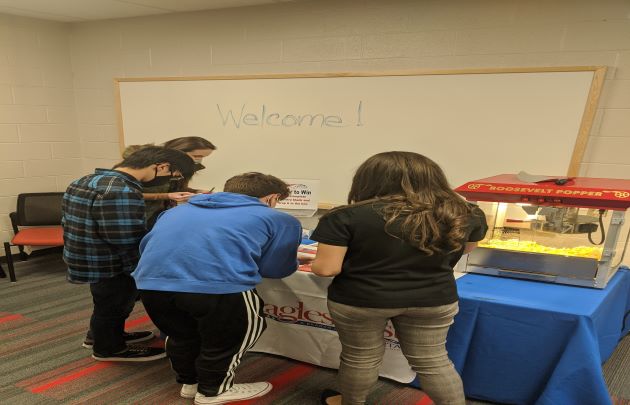 Youth Financial Advisory Board Helps Prepare Students for Life After High School!
York, PA – On Tuesday, April 18, 2017, First Capital Federal Credit Union's Youth Financial Advisory Board (YFAB) held its last meeting for the 2016-2017 school year. During the four sessions held over the course of two months, York County high school students learned about budgeting, understanding your credit, jobs available in the financial services industry, as well as the differences between banks and credit unions.
"This year we changed our focus," said Lisa Barshinger, YFAB Coordinator. "We made the sessions more educational, which we thought would better prepare students for life after high school."
Fifteen juniors and seniors participated in all 4 sessions. During the last session, we awarded two students with $500 scholarships; Abby Jovich from Central York High School and Meagan Holder from South Western High School. Three other students received gift cards as well.
We are currently accepting applications from York County High School juniors and seniors for the 2017 – 2018 YFAB sessions. Please contact Lisa Barshinger at 717.747.6393 or by email at [email protected] for more information.